Dear investors, dear readers
At the end of July 2020, we launched our Alpha AI Sustainable (DE000LS9QPW3) on the 35 global most sustainable green tech companies.
We are now celebrating its first birthday and reaching an annual return of +52%. We congratulate all investors who bet early on this megatrend and CAESAR for the excellent market monitoring and investment quota management.
The investment strategy for the certificate:
The certificate invests in a sustainable stock portfolio with a systematic and emotionless hedging component for uncertain times.
CAESAR's hedging algorithm permanently monitors key underlying indicators and reduces the investment level of the portfolio when market uncertainty increases, with the aim of reducing drawdowns on the stocks. In short, the certificate allows full participation in the upside of the best global sustainability stocks, while also providing additional protection during market corrections.
Review:
Since inception, CAESAR has only intervened once to reduce the equity allocation. This was in July 2021 and only during two days.
Our AI captures the bull market excellently and has thus enabled the full return of the invested stocks: our third AI software generation delivers!
Since inception, we have invested in true green tech champions via our rule-based stock screening (Private Alpha Stockscreener). Top stars of the last 12 months were: Steico AG +195%, Nio Inc. +200%, Standard Lithium +125% and many more Green-Tech Stars.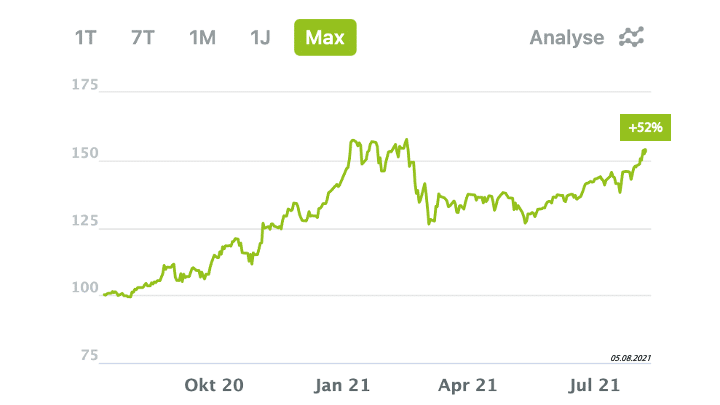 Performance Chart 1 Jahr
Outlook:
We believe that the best years of high returns are still ahead of us. Global economies have earmarked USD 4 trillion for sustainability by 2030. The challenges to address climate change in particular are huge. With our investments in the best green tech companies, we want to do our part to make the world more sustainable – for us and the next generations, according to our slogan: "Next Generation Value".
The certificate can be purchased at all banks, online brokers and savings banks under ISIN: DE000LS9QPW3. Click here for the product details.
Don't miss any AI update in the future: Register here directly for free.
Your Private Alpha Team